Lundberg v. County of Humboldt
aka the Pepper Spray Q-Tip Case or the Pepper Spray Eight Case
originally Headwaters Forest Defense, et al. v. County of Humboldt, et al.
Media contact: Karen Pickett, 510-548-3113
Revised 11/23/11 - (minor content rearrangement) (last major update 2007)
Press Releases | News & Commentary | Legal Documents | Audio | Links
Donations | Photos | Courtroom Art | FAQ | Fact Sheet | Search
---
We Won! See Victory For Activists
We won a unanimous federal jury verdict that officers used excessive force against us in violation of our Fourth Amendment rights. Although we were awarded only nominal damages, the judge ruled that we were entitled to have defendants pay our attorney fees because our case established important precedents and served the public interest. Defendants threatened to appeal again. Ultimately, a post trial settlement ended the litigation, heading off years of appeals, and with defendants paying our legal team a substantial sum (but far less than they're worth) for their many years of effort! The settlement agreement has been signed by the parties and ratified by the court, and the settlement money has been paid. The litigation is finished after over eight years and three trials!
Guide to Recent Website Additions and Revisions
---
VICTORY FOR ACTIVISTS!
(posted 4/28/05)


Plaintiff Terri Compost and lawyers Bob Bloom, Ben Rosenfeld, Dennis Cunningham and Tony Serra emerge victorious from the San Francisco Federal Courthouse after learning the jury's verdict on April 28, 2005. AP photo by Eric Risberg © 2005.

San Francisco -- An eight-person federal jury returned a unanimous verdict for the Q-Tip Pepper Spray Eight activists/plaintiffs, finding the County of Humboldt and City of Eureka liable for excessive force in violation of the 4th Amendment to the U.S. Constitution.

Humboldt County Sheriff's Deputies and Eureka Police Officers used unconstitutional excessive force when they applied pepper spray with Q-tips directly to the eyes of the eight nonviolent forest defense protesters in three incidents in 1997. Three of the activists were also sprayed directly in the eyes from inches away. Two of the young women were juveniles, aged 16 and 17.

Former Sheriff Dennis Lewis and current Sheriff Gary Philp also were found liable for causing the use of excessive force by setting policies allowing the unprecedented use of pepper spray on the passive demonstrators, who had locked their arms together inside metal pipes.

The plaintiffs laughed and hugged in the courthouse hallways after the verdicts were read and applauded when jurors left their chambers. "They did the right thing," said plaintiff Terri "Compost" Slanetz, a 42-year-old naturalist from Oakland. "We've been trying all along to get a statement that this was illegal. It's a positive step toward people treating each other decently."

Juror Athene Aquino, a 35-year-old Citibank employee, said she was convinced the force was excessive by watching a video showing the deputies swapping pepper spray in the protesters' eyes. When she viewed the tape, Aquino said she "started crying. It was just very emotional."

The jury awarded nominal damages of only $1 to each of the plaintiffs, who made it clear all along that they weren't suing for the money, but to bring about a change of policy, to prevent the future use of pepper spray in Humboldt in the way it was used on them. They hope and expect that the verdict will reverberate far beyond rural Humboldt County to make it clear that police can not use the extremely painful pepper spray on non-violent people to coerce them to follow orders.

Lawyer Tony Serra called the verdict a "mixed metaphor." He said, "The verdict establishes now and forever that pepper spray applied in this fashion in these circumstances is excessive force. That will deter law enforcement officials throughout the country in the use of pepper spay and that's very good." But Serra said, "These young people suffered grievous mental anguish and should have been given a substantial amount of money to recompense them."

The defendants may be required to pay the reasonable attorney fees and costs of the plaintiffs, which may exceed $1 million for litigating the case through three trials and multiple appeals as high as the U.S. Supreme Court.

Nancy Delaney, a lawyer for Humboldt County and other defendants, said, "We obviously have to examine what the verdict means." Delaney said the defendants will oppose an expected motion by the plaintiffs that the county be required to pay their attorney fees.

"The plaintiffs were never in it for the money they were in it for the principle," attorney Tony Serra said. "And we won this on principle. This will deter the use of pepper spray on protesters."

Plaintiffs attorney Dennis Cunningham said he thought the decision, which came after a two-week trial, was tough for the jurors but called the verdict "a step forward." "One is forced to a conclusion that this is a compromise," he said. "It's an imperfect verdict in an imperfect world."

Despite the low damage amount, one of the plaintiffs said she was still pleased with the precedent. "I don't even care about the money," said Maya Portugal, 23, who now lives in Northern Ireland and works in a coffee shop. "This is a victory for us. If this is going to stop them from doing this to nonviolent people then it was worth it." Portugal was just 16 when she was swabbed with the pepper spray.

The civil rights lawsuit was filed at the end of October 1997. After the first trial ended in an evenly split jury in 1998, the judge presiding over the case at the time took it upon himself to decide the case in favor of the defendants, claiming no reasonable juror could find that the actions of the Humboldt officers was excessive force.

After appeals overturned that ruling and granted plaintiffs a new trial, a new legal team took over the case for the activists. Further appeals by the new team removed the first judge for the appearance of bias. Judge Susan Illston was assigned to replace him, and a second trial in September 2004 ended in a hung jury split 6-2 in favor of the activists.

The third time was the charm, as the jury of six women and two men reached a unanimous verdict after a day and a half of deliberations.

Plaintiff Spring Lundberg said on KMUD News (Redway, Humboldt County) that the activists hope law enforcement all over the country will hear this message, that they can't just use pepper spray on non-aggressive people who don't follow orders. She said that some of the women jurors were crying, showing that it was clearly an emotional experience for them. Spring, who was only 17 when she had pepper spray put in her eyes with Q-tips, just turned 25 two days ago. She thanked all of the many people who helped raise money for the costs of bringing the case to trial three times, and all of the people who donated funds and services.


(Click photo for a large, high resolution version) Photo by Nicholas Wilson

Plaintiffs and lawyers give a victory salute in front of the S.F. Federal Courthouse during their Friday, April 29, 2005 press conference announcing the unanimous jury verdict in their favor. Kneeling are plaintiffs Jennifer "Banka" Schneider, Noel Hewitt Tendick and Terri "Compost" Slanetz. Standing are plaintiff Maya Portugal, lead attorney Dennis Cunningham, plaintiff Spring Lundberg, attorneys Gordon Kaupp and Bill Simpich, and plaintiff Sam Neuwirth. Not pictured are plaintiffs Lisa Sanderson-Fox and Mike McCurdy, and attorneys Tony Serra, Ben Rosenfeld and Bob Bloom. Photo by Nicholas Wilson.
Update Friday 4/29/05 5:30 PM
Plaintiffs and their lawyers were joined at a press conference Friday by juror Athene Aquino, who provided additional details about the jury's deliberations. She said the nominal $1 per plaintiff damage award was the result of compromises to reach a unanimous verdict. Some of the jurors wanted to award substantial damages to plaintiffs for the pain, suffering and psychological effects inflicted on them. Others felt the force used was excessive, but thought there was no lasting injury, and didn't want to find for the plaintiffs if it meant paying out substantial taxpayer dollars. Ms. Aquino said many of the jurors felt that the jury instructions given by Judge Illston pushed them toward granting only nominal damages. Some of them believed the police witnesses who said pepper spray caused only temporary discomfort rather than the excruciating, extreme pain that plaintiffs testified to. Ms. Aquino said she was convinced by viewing the police videotapes that excessive force was used, and that she cried when viewing the scenes where burly officers held young women roughly and swabbed their eyes with pepper spray drenched Q-tips.

Defense lawyer Nancy Delaney told reporters that the award of nominal damages means the defendants will not have to pay the attorney's fees and court costs of the plaintiffs. Plaintiffs' lawyers disagree. Both sides have 30 days in which to file motions before the judge enters the final verdict.

Lawyers Dennis Cunningham, Tony Serra and Bill Simpich gave strong statements at the press conference, saying they thought the jury's message was clear enough that using pepper spray on nonviolent demonstrators was unconstitutional, and law enforcement agencies nationwide should take note. Plaintiffs Spring Lundberg, Banka Schneider and Noel Tendick also gave statement saying they felt vindicated by the verdict, and that the long, difficult litigation had been worth it.

The press conference was covered by one network TV affiliate and several radio stations, including KPFA News, which is broadcast from 6 PM to 7 PM at 94.1 MHz and available for Internet listening on demand at www.kpfa.org

Links to several detailed news reports have been added to our News and Commentary Index and Links page.
---
Introduction
Perhaps you remember seeing the TV news showing police swabbing and spraying pepper spray into the eyes of peaceful protesters. Perhaps this is a new exposure to what sheriff's deputies in Humboldt County, California, view as reasonable force in arresting non-violent activists, activists who were, and still are, speaking out to protect the last of the old growth redwood trees in the world.

When our story first broke in the media on October 31, 1997, it was on national headline news, including repeatedly on CBS and ABC Evening News, CNN, Fox Morning News, Today Show, Rivera Live, Good Morning America, New York Times, Washington Post, Los Angeles Times, and USA Today, as well as newspapers and television stations across the country and abroad.

The publicity and public outrage generated by the incidents instigated an FBI criminal investigation and a review by then California Attorney General Dan Lungren. The review found the use of pepper spray in Humboldt County to be "unprecedented" and in violation of "acceptable police community practices."

When the incidents at issue here took place, we were working to protect Headwaters Forest. That work has been carried on by other non-violent activists drawn to this ecosystem who are struck by the horror of this ancient temperate rainforest being completely destroyed.

It is for them and the old-growth redwoods that we continue this lawsuit. But it is also for a broader vision that we continue our work. We believe the voice of dissent is crucial to a healthy nation. We feel that every person, no matter what the issue, speaking out in a way that does no harm to others, has an absolute and inalienable right to do so without fear of being attacked or tortured by the police or anyone else.

Any attempt to work through the justice system exacts a heavy cost, but we believe the price of silence is too great. So please, take some time to explore the site, feel free to contact us, and whether or not your particular views resonate with our own, speak out. We are living in an ever-increasing police state, where the government strips our basic rights, and we are expected to silently acquiesce. Now is the time to assert your freedoms promised to you by the Bill of Rights. As Edward Abbey said, "Sentiment without action is the ruin of the soul."

For more background information about this case please see our Fact Sheet and our Frequently Asked Questions (FAQ)
---
Scenes from the shocking police videos which brought international outrage and condemnation on the Humboldt County Sheriff's Office.

Terri Slanetz (left) is pepper sprayed directly in the eyes from only 2-3 inches away, risking permanent injury to her eyes.

Deputies pepper sprayed Mike McCurdy (above) and Noel Tendick directly across the eyes at close range while they were locked together through the tracks of a Pacific Lumber bulldozer on an old-growth redwood logging site. The activists endured the torture and did not unlock. Deputies safely cut them loose with a portable grinder, as they could have done without using pepper spray, and as they had done for years previously.
For larger photos see our Photos and Graphics page
---
For immediate release
Thursday, April 28, 2005
Jury Finds Sheriff's Use Of Pepper Spray Unconstitutional
Press Conference at noon Friday, April 29, 2005, outside the San Francisco Federal Courthouse, 450 Golden Gate Ave. (at Polk St.)
Contacts: Heidi Terbrack, (707) 496-7645
Media Office: Karen Pickett (510) 548-3113
San Francisco--After only twelve hours of deliberation, the federal jury returned a unanimous verdict finding that Humboldt County Sheriffs used excessive force when they swabbed pepper spray into the eyes of forest activists. The jurors found that former Sheriff Dennis Lewis and current Sheriff Gary Philp approved illegal use of force on passive protestors. The jury also held the City and County liable for its officers' unconstitutional actions.

Plaintiff Spring Lundberg was thrilled by the decision. "We won a unanimous YES! This was excessive force and the decision will reverberate to law enforcement across the country. This is a hard-won victory for preserving all our civil liberties."

The jury awarded nominal damages to each plaintiff. Elated activist Sam Neuwirth said, "This is what I wanted. This case has never been about money. It's about the jury saying they respect people who stand up for their beliefs and that the police can't do whatever they want."

Plaintiffs' attorney Tony Serra agreed, "We were always in it for the principle and not for the money. The police's application of pepper spray to the eyes of non-violent activists was akin to torture and today's verdict should help to keep it from ever happening again."

The activists injured by the sheriffs' applications of pepper spray sued the Humboldt County Sheriffs' Dept. and Eureka Police in fall of 1997, arriving at the current trial in federal court in San Francisco after two previous trials that ended without verdict.

"Brutalizing peaceful protesters will not be tolerated," said plaintiff Noel Tendick. "This victory rings in the hearts of any who would peacefully stand up for their beliefs. Onward!"
-30-
---
For immediate release:
April 28, 2005, 5:30pm
Victory for Forest Activists in Pepper Spray Trial
Jury Finds Sheriffs Used Excessive Force

Contacts Heidi Terbrack, (707) 496-7645
Media Office (510) 548-3113

San Francisco--After three days of deliberations, a federal jury returned a verdict finding that Humboldt County Sheriffs used excessive force when they daubed liquid pepper spray into the eyes of forest activists.

The eight activist plaintiffs were arrested in 1997 at three separate protests in Humboldt County as they worked to save the Headwaters Forest from logging.

The unprecedented application of pepper spray on passive, immobile protesters was part of a "get tough policy" implemented by the County as more and more people protested liquidation logging of redwoods in Northern California.

The activists injured by the sheriffs' applications of pepper spray sued the Humboldt County Sheriffs' Dept. and Eureka Police in 1997, arriving at the current trial in federal court in San Francisco after two previous trials that ended without verdict.

Press packets including video footage and courtroom drawings are available through the media office

-30-
For previous news releases see our Press Release Index
---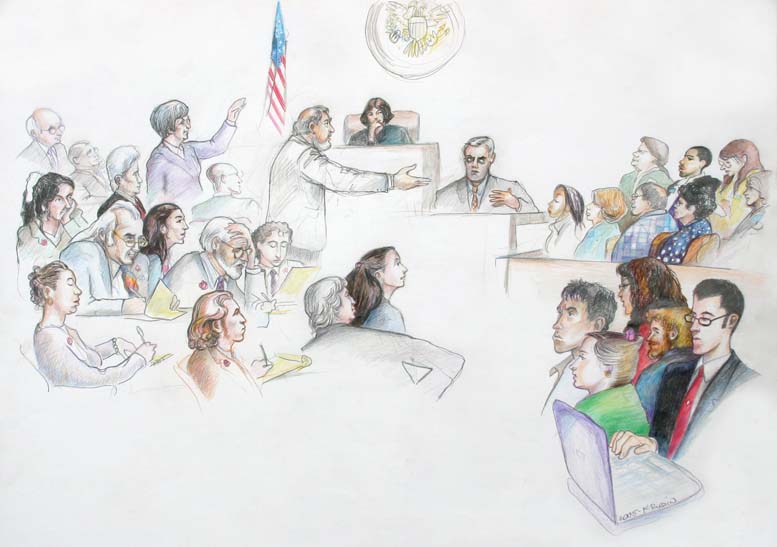 Courtroom graphic © 2005 K. Rudin.
Full Court View
Plaintiffs' attorney Bob Bloom questions witness Dave DuBay, former employee of pepper spray manufacturer Defense Technologies and present employee of Taser International, Inc., as defense lawyer Nancy Delaney raises her hand in objection. The plaintiffs and their legal team are in the foreground. The defense legal team is in the left background. The eight jurors are in right background.

K. Rudin's courtroom art page updated 5/11/05 with new graphics
---
Audio: KMUD News Report on Verdict and Interviews 4/29/05 (posted 5/2/05)
KMUD News Director Estelle Fennell gives a detailed report on the verdict, including interviews with Spring Lundberg, Dennis Cunningham, Humboldt Sheriff's spokesperson Brenda Gainey, and juror Conni Chandler.

Running time is approximately 13 minutes.

For audio files and for help with streaming, downloading and playing audio files please visit our Audio Files index page
---

Major Newspaper Editorials Agree: Pepper Spray Application to the Eyes with Q-tips is Torture (posted 4/11/05)
A compilation of November 1997 editorials by the San Francisco Chronicle, San Francisco Examiner and Los Angeles Times shows they were unanimous in condemning as torture and police brutality the actions of the Humboldt County Sheriff's Department in this case as shown on the shocking police videos first released to the media and shown on national TV on October 31, 1997, when this lawsuit was first filed.
Click to read.

When Police Play Russian Roulette: The Case for a Moratorium on Police Use of Pepper Spray" by Lenore Anderson, Jo Hirschmann and Van Jones of the Ella Baker Center for Human Rights (posted 5/11/05)
When Police Play Russian Roulette… makes the case for an immediate moratorium on police use of pepper spray. As the report explains, pepper spray is a chemical weapon that has never been properly tested. With one exception, all the available research into pepper spray raises serious questions about its safety for use on humans. The one study that claims pepper spray is safe for use by law enforcement agents has since been thoroughly discredited. It was conducted in 1991 by former FBI Agent Thomas Ward who pled guilty to accepting $57,500.00 in kickbacks from a pepper spray manufacturer. This report provides a comprehensive overview of all the available literature on pepper spray (as of 2000).

Read the full report (99 KB PDF file)

Health Hazards of Pepper Spray (posted 9/2/04)
We are happy to reprint an article from the North Carolina Medical Journal summarizing the medical literature on pepper spray health hazards as of 1999. Because the journal has undergone a change of ownership and management, and its website no longer provides archives of articles published before 2002, we are pleased to republish the article on this site for nonprofit educational purposes under the Fair Use provisions of U.S. copyright law.

Click here to read Health Hazards of Pepper Spray by C. Gregory Smith, MD, MPH, and Woodhall Stopford, MD, MSPH
---
A day-by-day report on the trial.

Go to the Trial Log Index Page (Updated May 3, 2005 with the closing arguments by Dennis Cunningham and Tony Serra

Note: We suspended updating the log daily after April 18 due to the press of other duties, including taking the daily trial notes for the legal team.

As an alternative daily report on the trial, we refer you to the reports by Diane M. Batley published by The Eureka Reporter, a commercial print and online newspaper published in Eureka, California, the county seat of Humboldt County. Ms. Batley's reports are linked from our News Media Reports & Commentary Index and Links
---
Please Help!
Keep this website up as an educational resource. Please
go to the Contributions page for information on making an online donation by credit or debit card or mailing a check or money order.
---
The news continues below the Introduction section for new site visitors. Return visitors can click here to skip the Introduction and jump to "More News" (after this page has finished loading, which can take over a minute on slower dialup connections).
Please scroll down for the main home page content below.
(For slower dialup connections it may take a minute or two to finish downloading.)